Product Description
Mobile portable air conditioner for camping with big airflow, the rated cooling capacity of portable air conditioner camping Australia is 5T 18kw, Camping air conditioning is the best way to cool your tent in short time and also easy to move easy to install than home use air conditioner.
Mobile air conditioning systems that have been specifically designed for mobile clean rooms, command posts, and medical/rescue tents. These systems will operate reliably even at temperatures reaching up to +60° C with a cooling capacity up to 18 kW. The TTAC-18HCWaS comes standard with a patented fuel-powered heating capacity of up to 30 kW. Even with an outside temperature of -32°C tents can be comfortable for those inside. The heat-carrying medium is used to transfer heat into the tent where it is then supplied into the ventilation system. This indirect heating system prevents emissions from entering the tent space.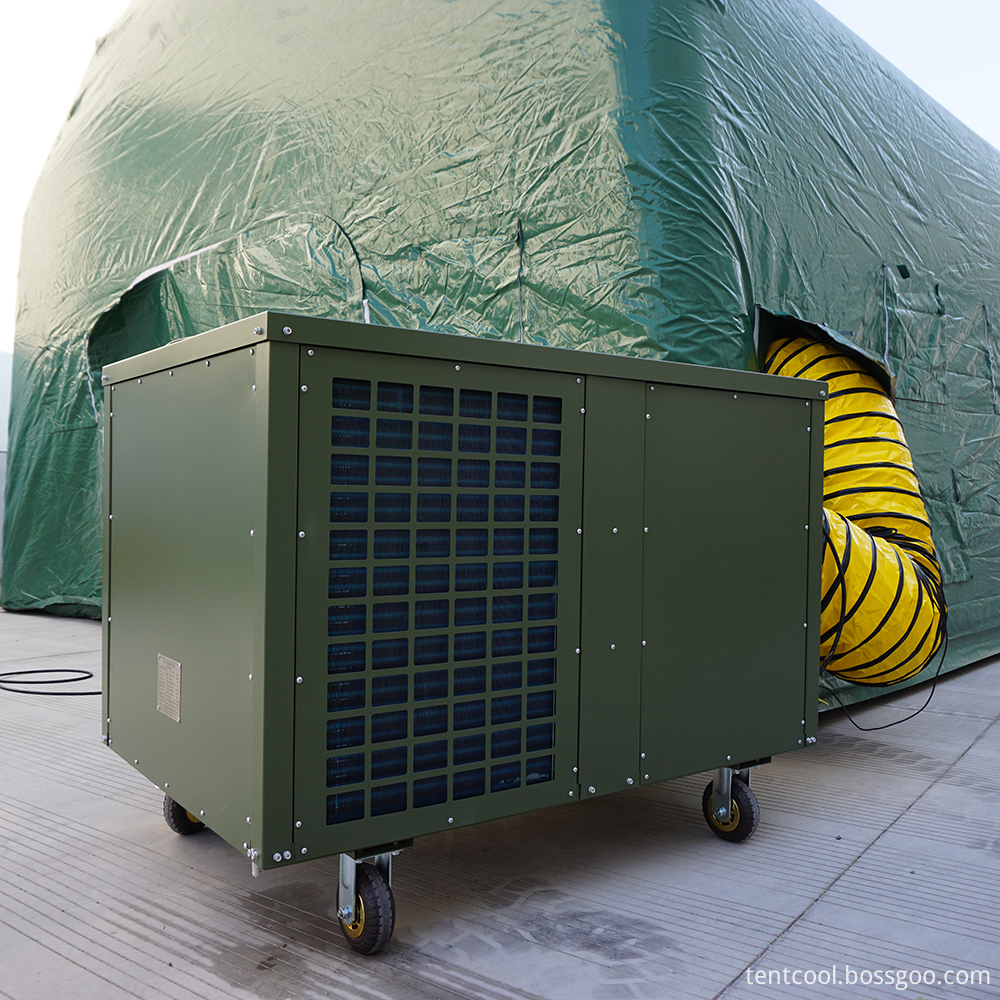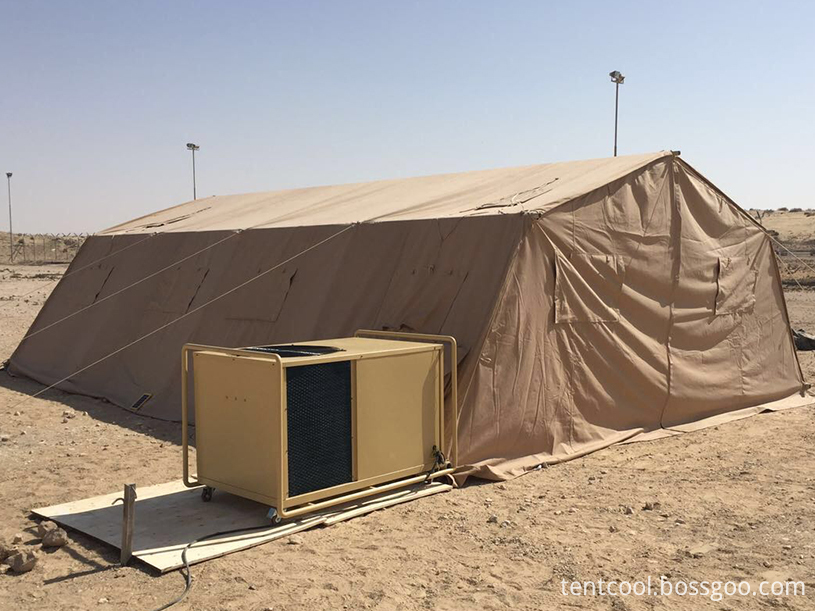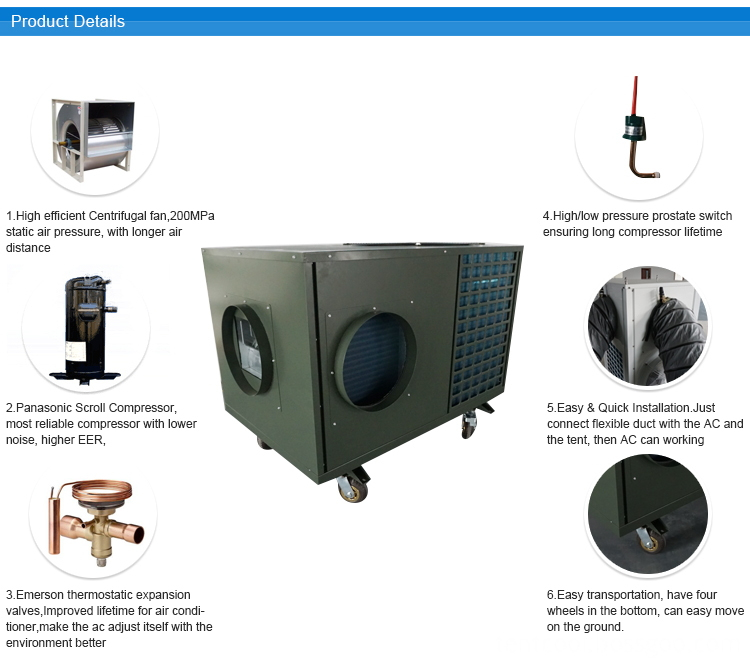 • Easy installing, just connect the flexible duct to the ac and the tent,then connect the power, then tent air conditioner can start to work;
• Quick installing, one person just one minute can finish the install.
•The AC is built into a cabinet manufactured from 1mm galvanized and powder coated steel sheet;
•Top finish painting is standard Olive green, also painting according customer needs;
•Can provide cooling at ambient temperature up to +55℃, provide heating at ambient temperature at -10℃;
• Environment-friendly R410a refrigerant gas;
• High/low pressure prostate switch ensuring long compressor lifetime;
• Emerson or Danfoss expansion valve can make the ac adjust itself with the environment better;
• Connect to the mains power supply or a separate diesel generator through a 7.5 m power cable;
• Temperature control by a room thermostat placed inside the tent;
• Inlet and discharge openings for one Ø380 mm insulated flexible hose, thus allowing the air conditioning unit itself to be set up outside;
• Easy transportation, have four wheels in the bottom, can easy move on the ground.


Military Tent Air Conditioner for Hungary Military Mobile Cooling and Heating for UAE UN Peace Keeping Force

China Guizhou Field Hospital air conditioner China Fujian Province Field Medical Rescue Team
Fire Fighter Sleeping Cabin Air Conditioner Fire Fighting Camp Cabin Air Conditioner
Airplane Parking Air Conditioner Aircraft Ground Service & Maintenance Air Conditioner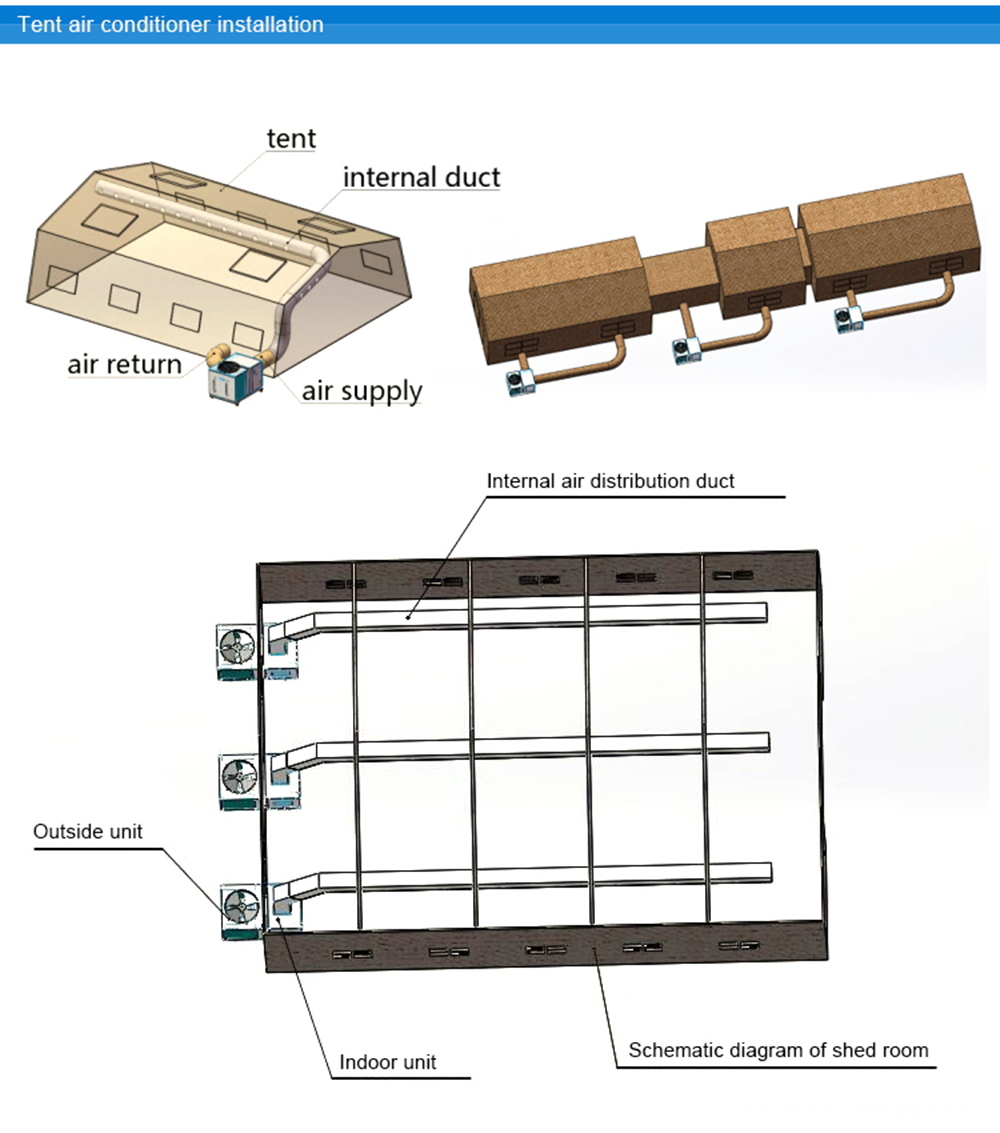 TENTCOOL is a diversified, high-tech and internationalized modern company focusing on energy efficient climate control solutions within cooling, heating and dehumidifying. The key products include Mobile Cooling & Heating Air Conditioners, Cabinet Air Conditioners and other air conditioning units for speical use or with customized design.
TENTCOOL endeavors to offer market-demand products, develop existing and new customer relations. The products are specially designed and supplied to military and humanitarian organizations, as well as special apartments or spaces like temporary buildings, accommodation, military camps, relief camps, tents, work camps (oil and gas industry), etc. TENTCOOL warmly welcome the world interested partners working together to making contributions on special climate control demands.